Meet the Instructors


Shelly Lacey is our current President. Shelly teaches the FUNdamentals course for puppies and young dogs that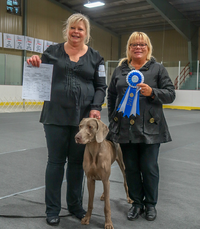 haven't  taken any obedience lessons before.

Shelly has been a member of PADOC since 2007 when she attended classes with her dog Coach.  Since that time, Shelly has been trained and mentored under other instructors to teach the FUNdamentals class.  Shelly brings the knowledge she has gained from countless seminars and training sessions to the class to help her students and dogs.  Shelly is also a Canine Massage Therapist.  Shelly's philosophy for dog training is that a tired dog is a good dog.  She encourages her students to be active with their dogs, keep them training, keep them thinking and they will be wonderful family companions.
Shelly and Coach (Weimaraner) worked together at Obedience and earned Coach's CD title.  He also achieved his CGN title (Canine Good Neighbour).  Coach was active in Rally Obedience and Agility as well.  He passed away all too soon before they could achieve more together.
Shelly's new dog, Kruz, is a Weimaraner as well and together they are active in the Conformation Ring earning several points toward his Championship for both Canada and the United States.  Kruz is active in obedience lessons and has achieved 2 of 3 passing scores on his Rally Novice Title.  Kruz is also training and trialing in Field work.  There will be other dog sports in Kruz's future like tracking, scent detection and retrieving.


 


Sylvia Reeve has been training dogs and helping others to train their dogs for over twenty five years.   She started with the Bytown Dog Obedience Club in Ottawa where she apprenticed for three years with senior instructors to qualify for independent teaching.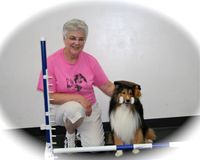 She ran her own classes for several years in Ennismore before coming to our club.  As well as achieving Obedience Trial Championships on two of her shelties, Sylvia has trained each of her dogs in the sport of Rally-O and continues to compete in both disciplines.  She is a strong believer in the positive method of training and having fun with your dog. Sylvia teaches advanced obedience and Rally O.